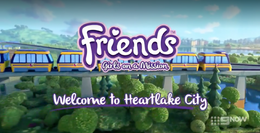 LEGO Friends: Girls on Mission
is the 2018 reboot TV series produced by the 
LEGO Group
. Instead of 22 minutes (like the previous series) the episodes are 11 minutes.
Overview
Edit
Meet Andrea, Mia, Emma, Olivia and Stephanie. They're five best friends. And they're on a heroic mission: to save Heartlake City from wily swindlers.
Amaya Harrow - Olivia
Kira Buckland - Stephanie
Allegra Clark - Mia
Faye Mata - Emma
Brad Venable - Joey
Chris Hackney - Ethan
Griffin Burns - Daniel
Fun Facts
Edit
We've Got Heart is used as the theme tune for the series.
The five girls have drastically different designs in this series.
Episodes
Edit
Synopsis: The girls form a group of super-doers to serve and protect their beloved Heartlake City.
Synopsis: When Emma's mural gets spray painted, the girls go after the culprit and find an abandoned firehouse.
Synopsis: Andrea tries to make her little sister more like her... only to realise, they may already be alike.
Synopsis: An attempt to catch the graffiti artist who's been leaving his mark all over town, leads to a forest fire in the woods.
Synopsis: Stephanie's competitive side gives the girls a front-row seat to a cheating scandal and the group out to expose it.
Synopsis: Plans to tear down the Arts District make Olivia question everything she believes in.
Synopsis: The girls give Hazel's shop a makeover, but can they stop the shops in the Arts District from being demolished?
Synopsis: Andrea's quest to be a pop star takes her to new heights, and the girls catch a bad guy in the act.
Synopsis: Andrea's temper turns the girls' new racing hobby into a competition that fuels them to put Dr Alvah in her place.
Synopsis: When the girls learn of Dottie Rae's long-lost love, they try to bring him - and their shot at the Grand Prix - back to life.
Synopsis: A fun day at the resort gives the girls a bird's-eye view of a trash island. Can team power solve the problem?
Synopsis: The ugly truth makes Andrea quit the race team - but when Mia gets in trouble, will all her friends come back to help?
Synopsis: The girls visit the park and Mia's old treehouse for some much-needed relaxation. But their break is quickly spoiled by something lurking in the lake.
Synopsis: The racing team's desperate need for a pit crew boss causes an old rivalry to be reignited.
Synopsis: A production flaw with the Alvahbots results in major malfunctions and even more major mayhem.
Synopsis: The day of the Grand Prix has arrived, but Dr Alvah is still as determined as ever to prove her Alvahbots are superior to humans in every way.